Print this page
If I Can Make it There
9.17.06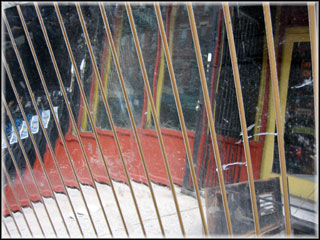 I experienced my lunar-eclipse onslaught of emotional realizations as a gust of uneasy melancholy, creeping tauntingly toward me down a narrow cross-town block of downtown Manhattan.
I was alone. More than that, I was lonely. I knew exactly where I was—after all, I did live here for a year and a half—but I was lost. Why was I here? I silently wondered.
Don't misunderstand. Overall, I love New York, for all the same reasons everybody else does: the people, the food, the art, the shopping, the energy. There is nowhere like it in all the galaxy. But at moments of heightened emotional sensitivity (like, say, the week of a lunar eclipse in Pisces), The City (capitalized, always) has a tendency to play upon my untethered existential alienation. It is monstrously, dispassionately bigger than I. No one will seem to notice, or care, if I jumble my way down Sixth Avenue in suppressed distress. What I do—whether I scream or cry, spew drunken nonsense, die—hardly seems to matter.
Only a couple days into my visit, moseying directionless and alone, I questioned why I felt compelled to come, now or ever. It's not like I was unaware of planning this trip during a potent eclipse period… not to mention the 5th anniversary of 9/11. I'd purposely (if, perhaps, only semi-consciously) selected especially intense timing to travel to the most intense town in the US. If it was intensity I subliminally craved, as an iron-deficient body lusts for a big bloody steak, then intensity I'd get… here, in the shape of self-doubt, isolation, aimlessness.
I walked slower than the bustle of New Yorkers filling the avenue around me, and more deliberately sought connection in the eyes of those I passed. On occasion, I would sheepishly smile, often to be met with a blank stare in return. A meadow of blank stares, like an expanse of canvas painted all white, hung against starkness, the faint unevenness of brushstrokes the only trace of expression.
I was here to work, my first-ever NYC trip on official astrobarry dealings. Besides the requisite spare-time catch-ups with friends, I had booked several astro-sessions with clients. And, I presumed, the other hours would fill with opportunities to network, that premeditated activity where socializing with interesting people always half-covers an agenda to get 'somewhere' or 'something'… I'm not sure what. This is what you do, right?
I'm an ambitious little bugger with a natal Moon in Capricorn, always on the lookout for ways to grow my business to new heights of renown. It's a given, then, that I must take my show on the road—to NYC, the place so many American professionals must conquer, in order to be considered an unabashed success in their field. As they proverbially croon: If I can make it there…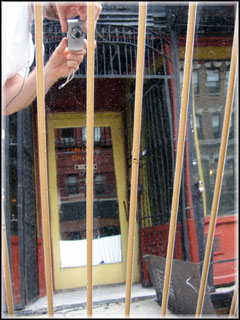 … but need I prove (to myself? to my parents and friends? to whom?) that I can make it there, in NYC, or anywhere and everywhere, when I'm so happy and content with my life in provincial little San Francisco… when I'm so lucky and blessed to do what I do, with its creative freedoms and innumerable occasions to help people? Must I risk this safe support to compete for the top spot, as if one exists?
In an odd departure for me, after only a couple days, I was missing the comforts of home and the close loving presence of my partner Ricky. (Usually, with my four Aquarius planets taking charge, I'll happily take off for a couple weeks of independent 'me' time.) I looked up and saw the full Moon looming off to one side, sharing its zone of the sky with the urban building tops.
Then, I turned a corner, and froze at the sight of two twin pillars of light—New York's memorial to the fallen WTC towers, shooting upward to the heavens. My eyes filled with tears.
It doesn't matter, I realized, if I 'make it' in NYC or not. Now or ever. I have a life I love, with opportunities presenting themselves all the time, organically rather than forced. For so long, I've pushed myself on a ceaseless path to more, more, more, such that I've begun to discover the 'dark side' of my high-achiever hangup: Enough may never be enough, and if I'm not mindful, I might miss the joy and the meaningfulness along the way.
Right then and there, I gave myself permission to appreciate the successes I've had… to take faith that, as I keep offering myself to the world in creative service, I will continue to be successful. And my success must never hinge on any single job, project or geographic locality. As long as I'm taking care of myself, I can live as 'small' or 'big' a professional life as suits me. No one's keeping score.
Thank you, lunar eclipse (conjunct, incidentally, my natal Midheaven).
Of course, as soon as I gave myself permission to feel the sorrows due me from my pushy achiever complex—and invited the tears to flow, standing on a Manhattan street, the Moon to one side and the twin lights to the other—I immediately felt the malaise start to lift. It also didn't hurt that Ricky would soon be arriving, to spend the weekend with me and our friends, reminding me I'm not, in fact, alone.
Meanwhile, the astro-sessions I hosted the following week were especially enjoyable for me, as I gained a true appreciation for the unparalleled diversity among the residents of NYC. (Thanks, everyone.) Plus, I got to spend some quality time with lots of old friends and new pals… though whether it counts as 'networking', I don't give a shit. I'd rather make friends than network any day.
In the end, all the nervousness and fear I'd endured by traveling to New York as 'astrobarry' evaporated into a feeling of triumph at my personal accomplishments.
Maybe, after all that, I can 'make it' there… or anywhere.
Maybe I already have.