Print this page
Lunar Eclipse Lunacy
9.6.06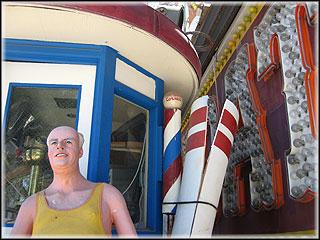 If you've already been feeling a bit edgy and haven't been quite sure why (or maybe that's just me?), one likely candidate is tomorrow's (Thu Sep 7) super-duper full Moon…
… in other words, it's a lunar eclipse. This is the first in a pair of eclipses (the solar eclipse is two weeks from now, on Sep 22), those every-6-month-or-so events that mark a culmination point in our 'old business', while ushering in a batch of something new.
In the olden days of sky-gazing, eclipses were viewed as harbingers of bad luck (bah, humbug!) because they were often accompanied by dramatic events of big change. (I suppose, considering astrologers usually served the direct interests of royal leaders, they were deemed 'bad luck' since they brought unforeseen plot departures that the king couldn't control.)
Nowadays, we're smarter than that (right?), and instead have come to interpret eclipses more like 'chapter-markers' in the stories of our lives. During eclipse periods (roughly the month or so surrounding a set of eclipses), our narratives hit a climactic peak of action. Something erupts to never-before-seen proportions, enters the scene, passes away, or shifts shape… sometimes so rapidly that we get the nervous roller-coaster stomach or our head threatens to spin right off our neck.
Tomorrow's eclipse holds quite a potential to shake us up on the emotional level, with floating bits of anxiety that obscure their real causes and split-second epiphanies that lead us to take radical stands (particularly relationship-wise). That's because the eclipsed Moon will be conjunct Uranus, the planet that hoists swift, sudden splits from the status quo upon us. Uranus demands we follow the beat of our own drummer—even if we must embrace strange new realities and/or walk away from attachments that hold us back.
Lunar eclipse + Uranus = Doubly-electrifying emotional emancipation.
But if you clutch too firmly to outdated notes on what you're feeling, some external force may rip the cheat-sheet right from your hands.
Lunar eclipses, like the one tomorrow, are about releases into heightened awareness of the feelings we've tried to push down or keep hidden. When the eclipse comes, these feelings are dragged out from their dark recesses and introduced to the world like long-lost family members who we may or may not actually find likable. You know how full Moons are thought to bring out the 'other' side of our personalities? With a full Moon lunar eclipse, this factor is multiplied times at least three.
Lunar eclipses, which occur only when the Sun and Moon are opposed to one another, also often play out their action through a relationship to someone else. Out of nowhere, we discover our feelings about the other person aren't what we thought they were—but do we like 'em even more or not anymore? Of course, the same situation can instead happen to us, as suddenly our favorite friend is cursing us out or trying to get us in bed. Or is it our partner who just doesn't come home one night?
In Pisces, this eclipse plays upon our most diffuse psychic sensitivities, such that it isn't always clear if the intensified emotional nuttiness is ours… or belongs to someone else, whether our most intimate relation or a stranger on the street. All things Pisces have a knack for eluding our full understanding, appearing to be one thing, then disappearing into the ethers before we're doing saying hello.
Pisces also tends toward romanticizing situations, letting us see what we want to see. If, during these couple weeks, an opportunity or connection seems too good to be true… well, you know where this is going.
Don't be afraid to use Uranus to your advantage during this time, to make the preemptive strike or insist on independence from others' psychic turmoil. That's what he's there for—to help us take the risky steps, to assert our individuality and embrace the wacky choices that'll lead us to fuller satisfaction. 'Mainstream society' (whoever that is) may scorn us for following Uranus, but our hearts will be so appreciative.
Next up in eclipse-land: the Sep 22 solar eclipse in Virgo, making a square to once-upon-a-time-a-planet Pluto. Start brainstorming now which bad habits you'd like to break, and which good ones you want to instill into your routine.