Print this page
The Weekend (of Abandon?) Ahead
5.25.06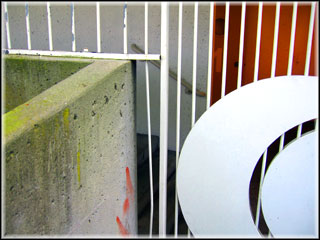 The thermostat hops higher on the hot hot heat of Venus in Aries, courtesy of a passion-stirring trine to Pluto today (May 25).
Maybe you've already felt it? Wherever the carnal magnets suck our interests, it's as if the dial has been turned up to 'MAX'—a palpable intensification in wave magnitude. Drawn by the pulsating warmth, we consent to being consumed by it. Why resist, when the light beckons us ever closer in?
Those daredevils-of-desire types among us will revel in these few days… you folks who brave the tightrope to push everything that extra inch, to speak that brash come-on with unblushing audacity.
And the others of us, attracted so powerfully by such pluck—we return again and again to worship at the altar of white-hot fervor, panting out our ying-yangs. So what if we get burned?
Venus and Pluto meld in the most passionate, persuasive, obsessively unable-to-ignore manner… and even if we know we shouldn't, we can't help but gravitate toward that which moves us most. Perhaps we coyly look away, but, guaranteed, we'll look back again. And the in-between moments, torture. We can't stop thinking about what we don't have, how badly we want it, how we can't live without it. Take it out. Put it back in.
Venus in Aries is playing us up to the hilt… leading us over the hot coals, to rollick and romp in the blaze. Only earlier this week, she was feverishly rubbing against Mars in a friction that certainly has its ups, just as supposed foes often prove themselves engrossing bedfellows. Now, her fire-sign advantage grabs Pluto's good side and takes it all the way.
Mars, left to tread through watery Cancer, doesn't groove so well with the Plutonian intensity. The high risk of exposure shocks him back into his shell. As Mars forms its inconjunct to Pluto, the sensitive feelers and 'delicate-flower' types could feel overwhelmed and retreat. Not everyone thrives in the pressure-cooker of Pluto's passions—too much, all at once, can frazzle and fry the nerves of gentler souls.
But when the palpable mood of extremes grows dense in unspoken urges, leave it to a Mercury-Uranus square, exact on Friday morning (May 26), to bust apart the steamy silence. Lackadaisically left-field comments break the tension with what's least expected. A breeze of the casual to get our non-carnally-driven minds working again… to dissipate the passion… to keep things light and loose.
Don't be surprised if someone drops a somewhat irrelevant bombshell—oddly impersonal, perhaps—to shake up the playing-field and scramble the balance of power.
By the time the Gemini New Moon rolls around on Saturday (May 27), we'll be more than ready for a change in cabin pressure. If you have been less enthused about the recent weeks' energies, then you'll be psyched about the transition to a different mode. Next week finds all three personal planets switching sign—Venus into Taurus, Mercury into Cancer, and Mars into Leo. If you've been getting thrills off the frenetic high, ready yourself for a steadying pull-back.
Over the weekend, decide what you want out of the sign shifts, to get things going right away once you're back to business. Americans celebrating the Memorial Day holiday this weekend should definitely return to work on Tuesday refreshed and ready for recommitment.
Still, for another few days, some healthy libidinous abandon can wring the pent-up stress from our systems. If it pulls at our proverbial hungers (or our literal loins!), why not follow that tug to its logical extreme… if only for the weekend?