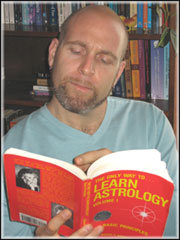 Recommendations for Further Reading
My intellectually curious, informationally hungry clients and comrades often ask me to recommend books they can read to learn more about astrology and related topics, and I'm always happy to oblige.
(Or is it that I cannot help but hoist unsolicited book recommendations on anyone who will listen, just because that's the kind of guy I am? Does it matter?)
Here are some of my favorite books, along with direct links to Amazon.com so you can buy them right now. Go on, feed that inquisitive mind…
Astrology
The Only Way To Learn Astrology: Basic Principles, by Marion March & Joan McEvers
A clear and easy place to start… and Barry's first astrology book.
Parker's Astrology: The Definitive Guide to Using Astrology in Every Aspect of Your Life, by Julia & Derek Parker
A beautiful, full-color comprehensive overview. Perfect for a gift.
How to Read Your Astrological Chart: Aspects of the Cosmic Puzzle, by Donna Cunningham
When you've got the symbols down and are ready to integrate what you know.
Horoscope Symbols, by Robert Hand
Beyond simple definitions, and into the heart of the meaning of astrology's symbols.
Planets in Youth, by Robert Hand
A great 'cookbook' for planetary placements.
Planets in Transit, by Robert Hand
Simply the book on transits.
The Astrological Houses: The Spectrum of Individual Experience, by Dane Rudhyar
Extensive discussion of the houses, from a pioneer in modern astrology.
The Lunation Cycle, by Dane Rudhyar
A masterwork on the cyclic relationship of the Sun and Moon.
Astrology, Karma & Transformation: The Inner Dimensions of the Birth Chart, by Stephen Arroyo
A classic, focused on astrology as a tool for spiritual and psychological growth.
Saturn: A New Look at an Old Devil, by Liz Greene
One of the definitive takes on Saturn.
The Astrological Neptune and the Quest for Redemption, by Liz Greene
The best, most complete book on Neptune.
Pluto, the Evolutionary Journey of the Soul, by Jeff Green
A heady meditation on Pluto.
Chiron: Transforming Bridge Between the Inner and Outer Planets, by Barbara Hand Clow
One of the quintessential works about this planetoid discovered in 1977.
Karmic Astrology: The Moon's Nodes and Reincarnation, by Martin Schulman
A must-have for esoteric insight on the lunar nodes.
Key Words for Astrology, by Hajo Banzhaf & Anna Haebler
An invaluable reference when you're looking for a few summarizing phrases.