Print this page
A Venus-in-Aquarius Holiday
12.17.11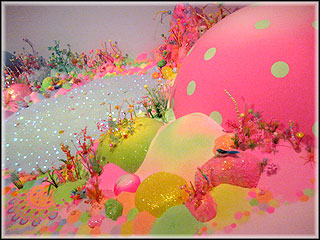 Let Venus in Aquarius serve as your guide for an enjoyably low-stress holiday season.
Rather than feeding into the multidimensional tangles of our histories in individual relationships with the family and friends we share this time of year with—and suffering the psychological strain that can go with it—we could just take a couple steps back and appreciate the whole scene from an impersonal 'diversity of human experience' angle.
Venus in Aquarius (from Tue Dec 20) gets her kicks from being in the mix, watching the players each express their unique quirks (whether or not they're aware of their quirkiness), but not allowing any single oddball to get too close for comfort. She has good boundaries… and, if need be, can use one or another of her strange behaviors to subtly alienate those she needs to push away, and just visit with someone else in the group. The overall dynamic of exchanging ideas and life-perspectives with a wacky cast of characters is far more desirable, in her eyes, than becoming weighed down with much one-on-one intensity.
As an influence over our holiday proceedings, then, Venus in Aquarius could be a godsend for those among us looking for a way to 'rise above' the drama. If there's one thing air-signs love to do, it's to levitate themselves out of the direct tension, to a 'higher' place where they can breathe easier; everything seems more peaceful from the aerial view.
How might you promote her version of holiday joy? Visit with all the guests, instead of monopolizing the company of one or avoiding that of another. Keep the conversation from dullness or overly personal emotionality, raising interesting topics about our evolving society. Inquire into further details about others' latest studies or travels or volunteer opportunities, and ask what the people you don't know well do with themselves. It's always nice to learn something from one's social exchanges. If there are no new faces or holiday strays slated for inclusion in the day's events, you might consider bringing a pal or two along. The more, the merrier. The stranger the combination, the livelier the diversion.
Of course, Venus in Aquarius isn't the only astro-factor in play during the end-of-year festivities. I've chosen to emphasize her positive qualities as a suggestion for counteracting what so many folks dread about the holidays. Through the second half of December, once the Sun enters Capricorn at solstice (Wed Dec 21), he plays into the turbulent revolutionary era-defining energy… first squaring Uranus (Thu Dec 22) and then conjoining Pluto (Wed Dec 28). This reminds us, as we start another new season, we also have another ripe opening to dramatically reinvent ourselves.
One more way to adopt a revolutionary Uranus-Pluto self-reinvention: owning the power we possess, to accept responsibility in choosing where to focus our emotional energy, to not react to the familiar triggers as we always have. Replicating the habitual behavior leaves us as victims of circumstance; consciously taking a different attitude frees us from the victimhood. Actively deciding not to fall into the same traps doesn't, by the way, let any of the 'perpetrators' off the hook. It merely denatures the impact of their tricks, as we lead, by example, toward a new dynamic. (Skip, however, the self-righteous need to haughtily announce that's what you're doing.)
A final astrological note: Mercury, still in Sagittarius, forms a square to Mars in Virgo in the final days of the year (exact on Dec 31), an aspect which is known to add an unconscious snippiness to our communications. In these two signs, friction can arise from impatience related to whether we're getting too fixated on the small shit… and/or as a result of wanting to brashly skip over the facts of a case, just to assert a strong opinion. In either such context, it's worth recognizing that both levels of awareness—the micro and the macro—have their respective applicability, with neither being wholly irrelevant nor more important than the other.