Print this page
astrobarry in Australia — October 13-27, 2006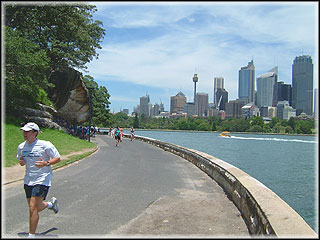 Howdy, friends and fans in Australia… I am now here!
If you need to reach me, I am available by mobile phone at 0431.865.196 or via email at barry@astrobarry.com.
Astro-Sessions in Sydney and Melbourne
I'm pleased to offer a limited number of appointments for private astro-sessions with yours truly while I'm in Sydney and Melbourne.
Sydney
Medina Exceutive Sydney Central, 2 Lee Street, Haymarket (adjacent to Central Station)
Mon Oct 23, Tue Oct 24 & Wed Oct 25 (Sorry, Sydneysiders—I'm FULL!)
Melbourne
Stamford Plaza Melbourne, 111 Little Collins Street, CBD
Fri Oct 20 & Sat Oct 21 (Sorry, Melburnians—I'm FULL!)
During our session, I will use your birthchart to guide our discussion of basic potentials in your personality and what's going on now. I'll look at how the planets' current positions trigger certain dynamics in your birthchart-auspicious growth opportunities or challenging circumstances likely to arise in specific areas, such as relationships, career, money, family and home life.
I combine my extensive knowledge, experience and intuition in interpreting what I see in your chart, and I communicate my observations in clear concise terms. Throughout the session, you are encouraged to ask questions and contribute ideas in a confidential, supportive dialogue.
To calculate your birthchart, I will need the following information from you: birthdate, place of birth (city or town) and exact birth time. Yes, exact birth time (or within 5-10 mins.) is crucial for experiencing the maximum benefits of astrology. Without reliable birth info, it is difficult for an astrologer to provide the most specific, accurate insight possible.
To make an appointment or for more information, please email me at barry@astrobarry.com.
My fee for a standard session is AU$145, which lasts approximately 60 minutes.
To hold your spot, payment in advance is required. Should you need to cancel more than 48 hours in advance, I will refund your money, minus a AU$10 cancellation fee. (Clients who cancel within 48 hours of scheduled appointment time will not receive a refund.)
Buy now via PayPal. (Please don't pay until you've contacted me, to ensure I still have an available appointment time that will work for you.)
Appearances and Opportunities
Members of the media, literary agents and editors, owners of metaphysical stores or other relevant businesses, and anybody with interesting prospects to present… I encourage you to email me at barry@astrobarry.com, and let me know what you're thinking. I'm open to all sorts of mutually profitable possibilities.