Print this page
On Newsstands and Radio Stations Across Australia Now!
12.10.06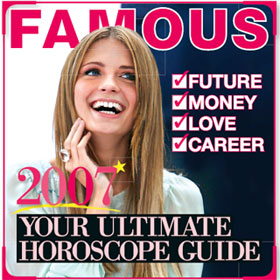 As you awaken and step forth into another Monday morning, my Aussie amigos, newsstands all across your fine country are stocking their shelves with the latest issue of FAMOUS… featuring Your Ultimate Horoscope Guide for 2007, written lovingly by yours truly!
Meanwhile, radio programmers are scrambling to air the witty-and-riveting interview segments they conducted with me. Excited to hear my heavily-American-accented take on the new year? Check me out here:
NOVA 100, Melbourne (morning show on Tue Dec 12)
NOVA 969, Sydney (morning show on Tue Dec 12)
I98, Wollongong, Marty & Erica for Breakfast (morning show)
4BH, Brisbane, Breakfast with Kim & Loretta (morning show)
'The List' w/Age and Renee (syndicated evening show)
The Ultimate Horoscope Guide, in stores now, includes detailed annual outlooks for all 12 zodiac signs, with special focus on love, money and career.
The radio interviews will also cover the year ahead for the signs, as well as my exclusive forecasts for some of our favorite celebs. (Brad and Angelina, anyone?)
Any and all support from you, my most devoted website-readers, is greatly appreciated.
Pick up a copy of FAMOUS… and after being utterly dazzled by my year-aheads, let the kind editors know how much you love seeing your astrobarry in their pages.
Catch me on the radio… then call up the station, and tell them how you appreciate their featuring a real astrologer on their airwaves.
Thanks, as always, m'loves.